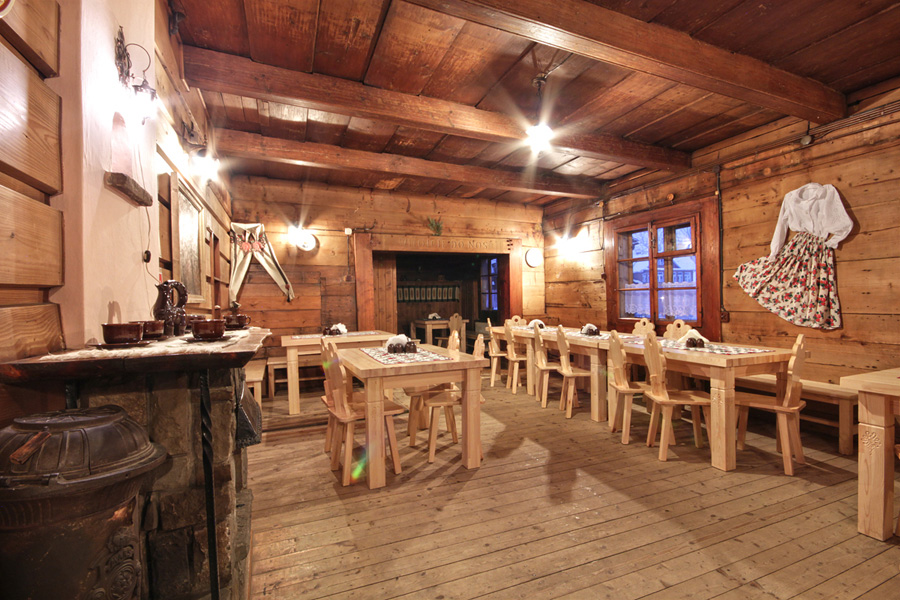 GASTRONOMY
You can eat well and tasty in Zakopane. Not only in restaurants or bars, but also in many fast-food outlets emerging from season to season. It is characteristic of this, that in Zakopane eateries, large and aesthetically prepared portions are served, Salad is plentiful and you don't regret potatoes or fries. Pizza – A perfectly adapted dish at Giewont - it is large and enough not only for one, but even for two. Could this generosity have something to do with the memory of the famines and shortages before 100,150 lat? You do not look for places in Zakopane, to eat something – rather, they seduce with signboards, neon lights and fragrances. Exotic bars and restaurants are popping up like mushrooms after the rain: Greek, Arabic, French. Of course, the most is at Krupówki. Here, too, small owners take care of visitors' appetites, glazed trolleys, from which they sell warm donuts and other sweets. Compared to other cities, prices in Zakopane premises are not excessive. It is most expensive in hotel restaurants. A typical menu of a Zakopane restaurant or a diner combines elements of traditional highlander cuisine (hence the bigos, sauerkraut soups, grule) with Polish cuisine (schnitzel, croquettes, Borsch). Almost every self-respecting restaurant serves trout, potato pancakes and duck. The attractiveness of tasting individual cuisines does not lie in surprising the palate with the variety of dishes, but on tasting the same dish, prepared in different ways.
Regional restaurants
At my grandson
ul. Koscieliska 8, open from 10.00 to 22.00.
The most famous and oldest regional restaurant, not very expensive, serving hearty and tasty meals; this is not a place for a quick dinner, you have to wait here, and then digest; virtually every dish from a large selection of Grandson's items can be treated as a specialty of the establishment: sauerkraut soup with potatoes, roast robber, trout, Zakopane pancakes etc.; every Wednesday and Saturday from. 20.00 highlander band wins. Watch out for the low door frame!
REDYKOŁKA
ul. Koscieliska 1, open at. 10.00-22.00.
It is housed in several wooden rooms in a highlander style: wooden tables and chairs, rows of pictures on glass under the ceiling, purely, inviting and homely, service in folk costumes, in the background, discreet highlander music; menu (Writing Fir) traditional for a regional restaurant – the plant's specialty is juhaska soup and highlander pancakes; a full dinner with extras for one person costs within the limits 15-25 PLN.
ROMAN COTTAGE
ul. Jagiellonian, open from. 17.00 until the last guest.
Unconventional use of the highlander tradition in welcoming guests; always exciting, always surprisingly, always good cuisine; could be dangerous for men in ties; the majority of customers are foreigners and visitors who are hungry for sensations; prices between decent and expensive; a highlander band performs every Thursday.
CALCULATION
ul. Kraszewskiego 10a, open from 12.00 to 22.00.
Another restaurant in highlander interiors with a traditional menu, famous for its good quality and lovely service; the price of an average lunch with additions – 25-30 PLN; and:
• They are sterile – ul. Krupówki 11;
• Sieckowa Soup – ul. Koscieliska 52;
• Bąkowo Zohylina – ul. Piłsudski.
Restaurants
COLORFUL
ul. Krupówki 26, *12319, open at. 10 00-23.00.
A spacious, comfortable and decent place in the middle of Krupówki, with a fireplace, serving mainly village kitchens; compulsory consumption for all drinks.
BLACK
ul. Kosciuszko 4, open at. 8.00-22.00.
Uncomfortable seats and plain decor, but for a decent sum (5-12 PLN) you can eat a quick and good dinner, giving my eyes the view of Kościuszko Street; the chef recommends the Śwarna beefsteak – sensational grilled tenderloin with cheese, corn and ham.
GUBALÓWKA
Open at. 10.00-18.00.
Plant specialties – highlander cake, Gubałówka cutlet, highlander tea - they do not make such an impression, like the decor of the hall, considered in years 60. for the most beautiful in Poland.
STICKER
ul. Krupówki 2, open from. 12.00.
A fancy and quite expensive restaurant, which specializes in duck with apples and sauté trout.
U BORSUKA
ul. Zamojski 13, open daily from 14.00 do 24.00.
In a homely interior, very tasty eastern cuisine in a broad sense. Cheap. The great asset is the owner – Put by Ekaterina, serving dishes and able to talk to customers, as it was once written in books. No wonder U Borsuka is artists' favorite restaurant, filmmakers, doctors and adolescents.
Cottage steak
On the corner of Galica and Krupówki, interesting place, where the eyes of customers are delighted with piles of freshly prepared steaks, skewers and other meats. Prices within limits 12-20 PLN.
Other
•Poraj, ul. Krupówki 50;
•Zbyrcok, ul. Krupówki 27;
• Peaks, ul. Tetmajer 2;
• 7 Cats, Cyrhl 25.
Other nations' cuisine
CZARDAS
Hungarian restaurant at ul. Nowotarska 10, open at. 10.00-22.00.
JERUSALEM
Restaurant at Krupówki at the foot of the Vocational School Complex, supposedly open 24 hours a day. Palestinian cuisine. Not very cheap and they don't really care about customers.