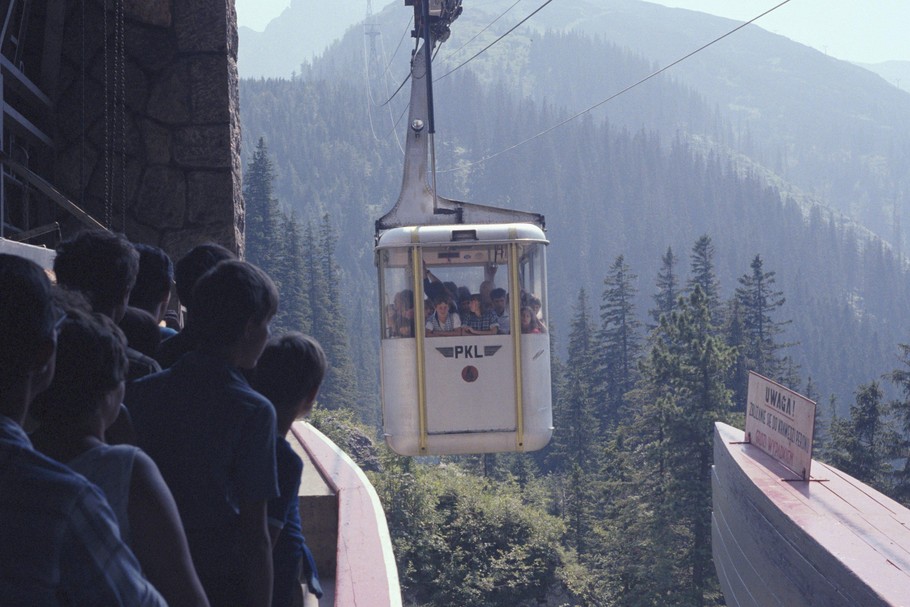 Ropeways
The State Cable Railways are located at Krupówki no 48. In hours. 8.00-14.00 tickets for groups are sold. Tickets for individuals can be purchased at the cable car stations.
To Kasprowy Wierch
The miracle of interwar technology in the Tatras holds up well and is a tourist attraction in itself. The ride takes approx 20 minutes along with a change at Myślenickie Turnie. They take the wagons once 30 people, with full attendance run every 10 minutes, however, in high season there are always many more people willing than places. It is best to get up early in the morning and show up in person in Kuźnice. Orbis pre-sale tickets are approx 30%, and at the headquarters of PKL at ul. Krupówki 48 individual tourists are not served. The railway runs from 7.30 (except for the winter months, when it starts half an hour later). Of course, a lot depends on the weather and if the forecast predicts mountain weather, it is better to give up the queue and choose a different route. Ticket prices valid at last 1998 r. were as follows:
32 PLN return normal ticket, 15 PLN a concessionary return ticket or a regular one-way ticket, 11 PLN one-way discount ticket. Children have been entitled to discounts for years 4 and school and university students upon presentation of the ID card.
Indicative maintenance dates of the cable car: 10 V-20IV and 20 X-15 XII.
The exact dates of breaks and course limitations are given in station announcements and local media.
At Hala Gąsienicowa
The funicular is intended for skiers; rides for at least 10 people, with full turnout, single chairs run continuously.
The maintenance break lasts from 10 May to 15 of December. Ticket prices: for 9 we will pay a minute's drive 4 PLN. A single travel out of sequence ticket costs money 5 PLN, ten-trip pass – 40 PLN, and you have to pay for the all-day card 45 PLN. All of them are valid on the date of dating only and are sold in limited numbers.
At Hala Goryczkowa
Double chairs, need at least 20 people, for the funicular to go on its fourteen-minute journey. Maintenance breaks and driving out of sequence are similar, as in the case of the cable car on Gąsienicowa.
Butorowy Wierch
Double chairs are going 14 minutes in summer and 18 winter, every hour or at least for 10 people.
Maintenance intervals: 10-20 April and 2-30 November. The ticket costs 3 PLN and there are no discounts.
Gubalowka
80-passenger carriages run approx. 5 min, co 30 min or at least for 20 people; with full attendance co 8 min. The price of a normal return ticket is 12 PLN, normal one way costs 6 PLN. Concessions, respectively, half cheaper.