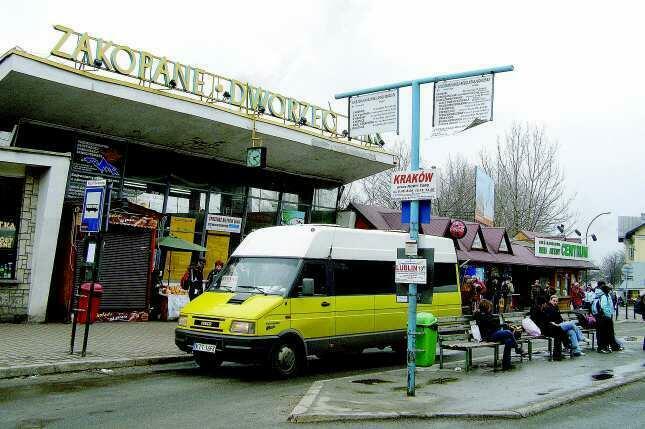 Bus station area
The bus station has been operating for summer 1929 r. This place is teeming with life. Passenger and bus traffic runs from morning to evening. Visitors are first greeted by a handful of residents who offer "cheap" accommodation, who can almost flawlessly pick tourists out of the mass of people disembarking.
Between us, the accommodation they propose is not the cheapest, nor the most hygienic.
The room of the station building concentrates on one hundred square meters of the cash register, information, kiosks with newspapers and sweets, benches, decorative palm trees in flower pots, moving boards with timetables and people walking with their luggage. Depending on the season, there is plenty of skiing here, for tents attached to backpacks or for baskets with oscypek and sheep's wool sacks. Bus stations reaching almost 30 cities in Poland, and also to hamlets and villages around Zakopane, are located on the maneuvering square behind and in front of the building on both sides of Kościuszki Street. Adjacent to the front wall of the station are cookie shops, fruit and drinks and small gastronomy booths (cheaply!), enriching the mixture of train station aromas with a clearly dominant aroma of mushroom casseroles.
PKP station
The railway station, hidden on the sidelines, on the other side of Chramcówki Street looks completely different. A quiet and empty building with an elongated shape in the season is a witness of increased passenger mobility.
Zakopane has direct rail connections with Krakow, Warsaw, Katowice, Gdynia, By boat, Cognition, Szczecin, Olsztyn, Częstochowa.
Out of season in the dark waiting room there are sadly few people looking at the timetable to the board with private correspondence. Table – to the right of the entrance – is one of the methods of communicating with friends or family. You can use a pin or adhesive stick to attach a piece of paper with the content, e.g.. (cyt.):
We will be in the shelter -Krzyżowcy or: Leave Alf alone – Zdzichu, however, PKP is not responsible for reaching the addressee.
Entry of the first steam-powered train to the station at the roundabout next to ul. Kościuszko took place 25 October 1899 r. Back then, Zakopane was the end station of a private railway line, departing from the Vienna-Lviv route through Chabówka. To this day, the travel time by train from Krakow to Zakopane has been imperceptibly shortened. 80 years later, there was a great railway sensation, which, fortunately, went without any casualties. Cargo train, instead of stopping at the station, entered the roundabout, because the driver fell asleep.