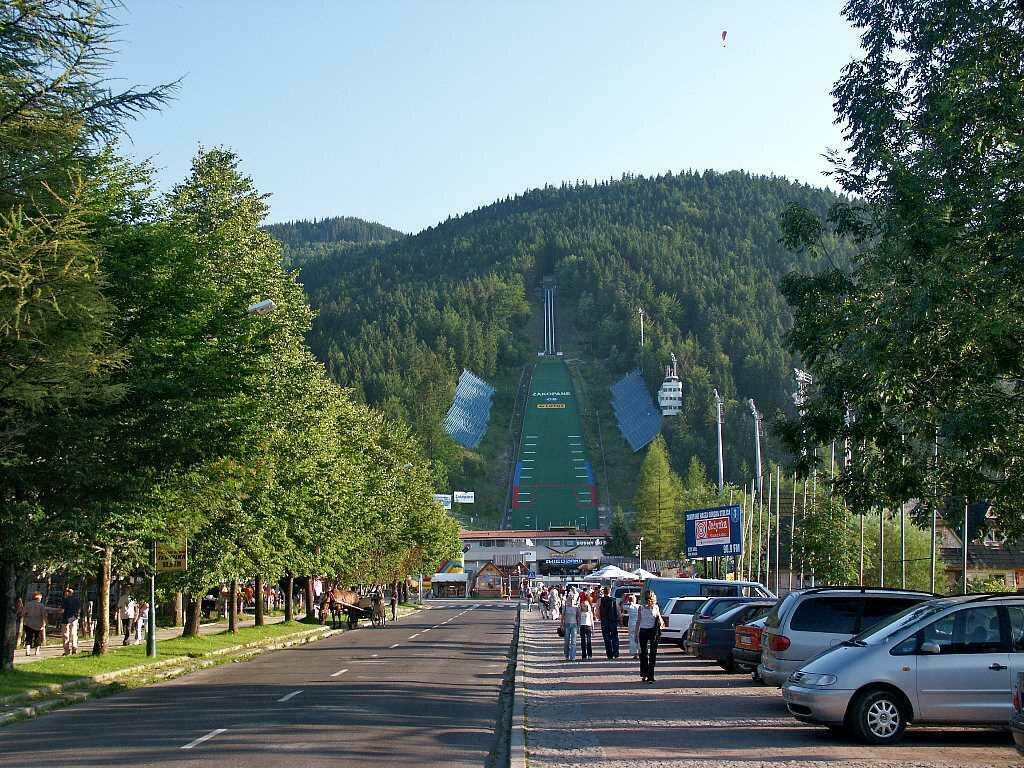 Piłsudskiego Street
Ski jumps interrupt the course of Droga pod Reglami, which starts at al. Tatra Guides, and ends in Krzeptówki, it is easy to find it again under the forest line on the western side of Wielka Krokiew. To get to the center from the hill directly to Krupówki, it is best to go to the wide ul. Piłsudski, until recently called ul. 15 Of December.
Ul. Józef Piłsudski has contact with the following streets: Bronislaw Czech, Szymanowski, Zwierzyniecka, Sabała, Makuszyński, Tetmajer, Staszic, Partisans, Krupówki.
While reviewing the list of famous personalities visiting Zakopane over the years, the absence of Józef Piłsudski among them would be surprising. The Marshal began to visit Giewont from 1901 r. for medicinal purposes, political and social; he was very close to the Zakopane community. Bronislaw Pilsudski – ethnographer, Józef's older brother, he lived here permanently and was active in the Tatra Society and in the editorial office of Rocznik Podhalański.
The most captivating in Piłsudskiego Street is the panorama of the High Tatras and a row of light green larch trees planted along the road. At no. 24 on the right there is a built v 1935 r. for the popular pre-war dancers Lody and Zizi Halama, the Halama guest house. You can recognize it by the white plaster and green roof. After the war, it was converted into the House of Creative Work of Stowarzyszenie Autorów ZAIKS im. Wawrzyniec Żuławski, hosted famous Polish actors, writers and poets. In Halam, St. 1953 r. The great poet Julian Tuwim died.
Wawrzyniec Żuławski was an exceptionally handsome man, in any case, this is how it appears in the photographs; the greater the regret, that he only lived to see 41 lat. He was born in Zakopane and spent his childhood here. After that, he often came to his homeland. Mountains were his life passion, mountaineering and mountaineering. He died on the slope of Mont Blanc du Tacul, buried in an avalanche in 1957 r.