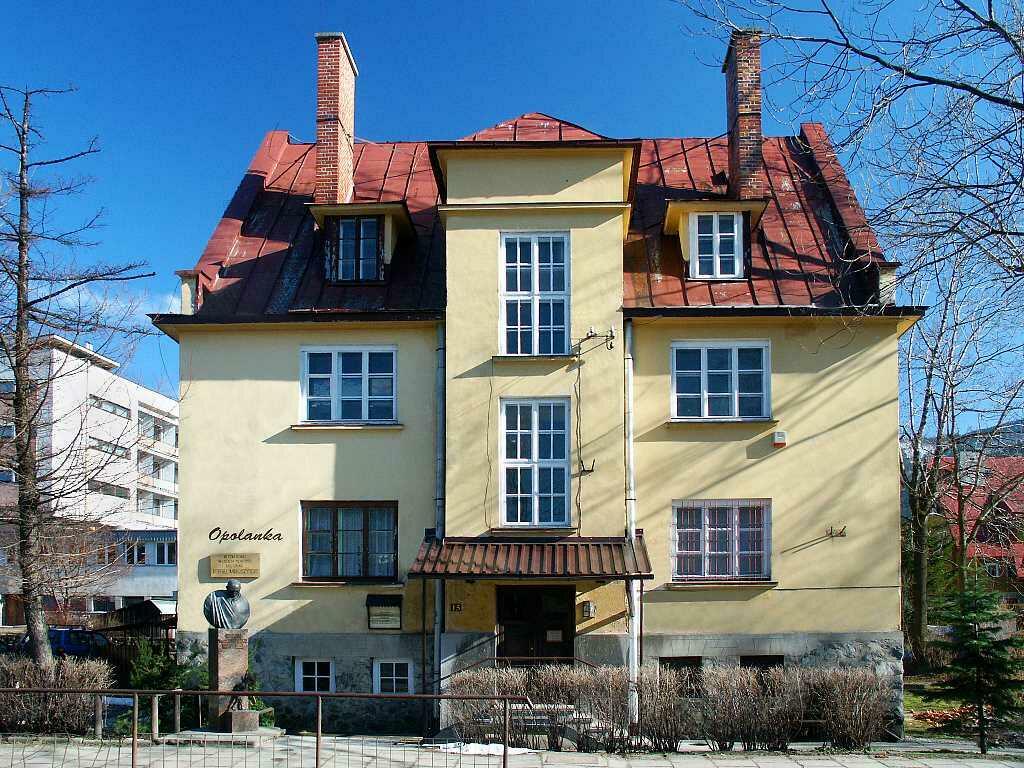 Tetmajera Street
The first major block going down to Krupówki ul. Piłsudskiego is ul. Kornel Makuszyński, an average street in Zakopane, not too long, not too wide, surrounded by villas and boarding houses, easily confused with the parallel Tetmajera Street. Tetmajera is also a block of Piłsudski, only closer to the center.
You can reach Tetmajera Street directly from the streets: Piłsudski, Witkiewicz, Krupowki, Małe Zywczanskie, Modrzejewska.
Thanks to her, you can go – heading west – from the upper part of Krupówki, from the place where ul. Witkiewicz, to ul. Małe Żywczańskie and further to ul. Strazyska. This is a handy shortcut and you should keep it in mind. After the war, the street was named after the leading poet of Young Poland, eulogists of the Tatra Mountains and almost a highlander of origin – Kazimierz Przerwa-Tetmajer, which won recognition with erotic poetry, impressionist, as well as poetry based on the motifs of highlander folklore.
Willa Opolanka
Person, whose eternal spirit rules not only over Tetmajera Street, but over the city there was an unforgettable Kornel Makuszyński, who lives with his wife! in set in years 30. Opolanka villa at no 15.
Makuszyński left behind much more than a note in an encyclopedia or a textbook; his books for children and others are read to this day – A row about Basia, Devil from seventh grade, Pearls and hogs, Sinless Years, etc.. Every year, in winter, the Koziołek Matołek competition is organized in Zakopane for the youngest skiers, with a long tradition and a long list of created sportsmen. From him, among others. Helena Marusarzówna began her adventure with skis. Makuszyński's great romance with Zakopane began in 1918 r. and it lasted 35 lat. Hand in hand with love and affectionate devotion was cut satire, witty and apt criticism, as well as cynically portraying the naked truth about litteriness, stupidity and ridiculousness of Zakopane citizens.
Zakopane has one theater, never open, but standing at a high level, famous cinematograph and four dances, a power plant so humorously arranged, that the light goes out every half hour, which even no American city has, besides, a monument to Jagiełło and the most necessary thing in Zakopane – cemetery.
After the writer's death, his wife, Janina née Gluzińscy, allocated part of their apartment to a biographical and literary museum, in which she collected family mementoes. In four rooms, densely packed, not only Makuszyński's admirers can find something for themselves, but also an amateur of old furniture, porcelain, photography and painting. Mrs. Genowefa works in the museum, who knew Kornel and Janina Makuszyński personally. He is the guardian spirit of this place; thanks to her, memories of the Makuszyński family become real. A bust of the writer was placed in front of Opolanka; at the foot is the brass Matołek the Billy Goat. The museum is open from Wed.. do nd. in hours. 9.00-15.00.
If after leaving Opolanka turn right then, passing ul. Piłsudski, we come to the Watra premises (ul. Tetmajer 1), a place of night entertainment favored by partygoers of the older generation. How can you find out quickly – we are at the center of an important artery junction – at the bottom there are Krupówki, at the top of Zamoyski, and ahead of us – Witkiewicz. Halfway between Opolanka and Watra, on the same side of the street, at No. 7a, in a gray villa, there is Paweł Szczerba's Gallery, open at any time of the day, just ring the doorbell, in which you can see the work and works of Paweł and Krzysztof Szczerbów.