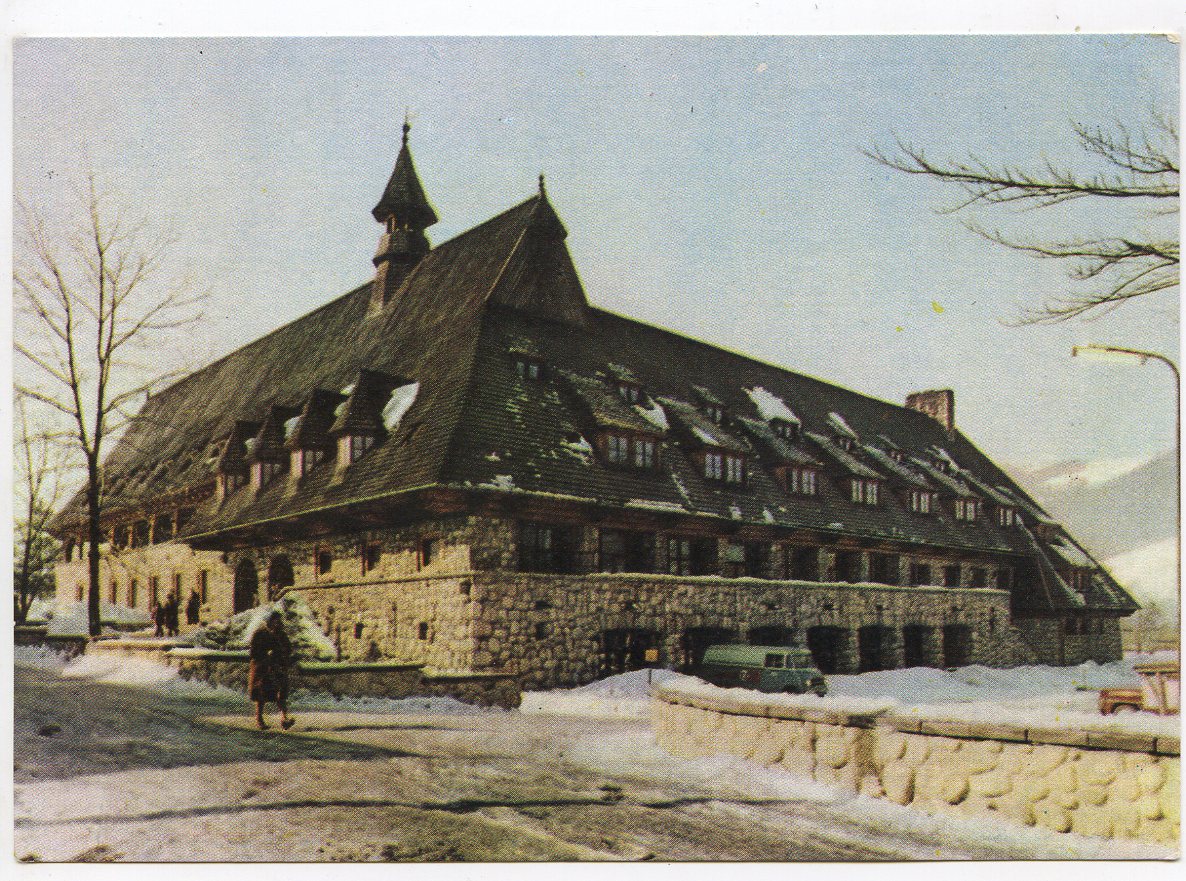 Zaruskiego Street
It's more like a square – only has 300 m long and ends blindly. Vis-a-vis Gazda, the northern wall of the Main Post Office building turns gray, where you will find several telephone sets with tokens and magnetic cards. There is also a taxi rank in front of the post office. Going deeper into Zaruski, west, you can walk to the place, where there is an inconspicuous monument to Mountain Rescuers by Władysław Hasior, founded on the occasion of half a century of TOPR's existence. In front of the monument, at the intersection of ul. Zaruski and Ogrodowa, in the nineteenth-century villa Jagienka, lived in the years 40. the famous Pimek in Zakopane, that is Józef Fedorowicz, also called Mountain Wind. He was a meteorologist by profession, and a passionate humorist and actor, co-founder of Witkacy's Formist Theater.
Ogrodowa Street towards the south-west leads to ul. Hurricane near the Atma villa.
In front of the TOPR monument you can clearly see a huge roof – the largest shingle roof in Europe – Dom Turysty im. Mariusz Zaruski, standing at Zaruskiego Street 5. Admittedly, the building looks like this, as if it consisted mainly of a roof and windows, but it is in it 640 sleeping places, bar, restaurant and other amenities plus an excellent bookstore and tourist antiquities shop with a great selection of books, writings, maps and plans. In addition, there is a stand of the Witkacy Theater, where you can inform yourself about the program and purchase tickets. The building was built in 1958 r. in the neo-religious style.
Down from the intersection with ul. Kosciuszko stalls were placed along the pavement, which sells "highlanders" – slippers, sweaters, scarves, ornaments. Here you can also find sellers with display cases on wheels, who offer fresh bagels or choux pastry. Crossing the intersection of Krupówki, Kościuszko and Zaruskie is like crossing another circle of initiation – from this point on, Krupówki become more intense – louder, livelier and more colorful.
MARIUSZ ZARUSKI (1867-19131) – He was a versatile and active man, almost 20 He devoted years of extremely intense life to Zakopane and the Tatra Mountains. He was a mountaineer, artist-painter, literacy, legionary, seaman, mountain rescuer, poet, publicist, but this is only an overview of His activities. He lived in Zakopane since 1904 r. do 1925 r. He made many hikes in the Tatras, he co-founded the Zakopane Skiers Department, he taught skiing, he organized ski courses, initiated the creation of the Tatra Volunteer Search and Rescue and in 1909 r. became its first governor. He was active on the library board, in newspaper editorial offices "buried" and Lviv "Polish words". He was particularly closely associated with the Tatra Society, it worked in all its sections. He also earned his credit as a soldier, fighting during the First World War in the Zakopane Rifle Campaign, and during the Polish-Soviet war he conquered Kiev. After regaining independence, in 1918 r. Zaruski, next to Żeromski, he was the vice-chairman of the National Organization in Zakopane and the Zakopane National Council. He died in Russia in 1941 r.